The Square Peg is the somewhat unruly yet still loveable brainchild of two completely different individuals with a common vision – to move beyond traditional digital marketing to building stories and experiences that are real, unique and long lasting.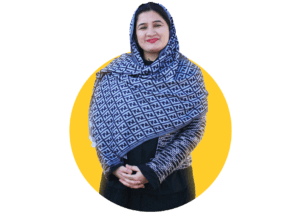 ZUNAIRA OMAR
A tech rock star who inspires, leads and upholds sanity that forces everyone to get the job done! I am, however, not be confused for an average tech-person for I have the ability to bounce from one creative idea to the next with the speed of Wil E Coyote and to manage every task with such finesse that would put even Martha Stewart to shame. Working with a Canadian firm exposed me to international best practices through which I acquired vast experience in crafting digital marketing strategies, especially for B2C. Not to oversell myself, but I am the superwoman of SEOS, Web Content Writing, E-Commerce, WordPress and Google Analytics. As the CEO of The SquarePeg, my role is practically tangled and intertwined with all aspects of the company and without me the team is just a brood of headless hens.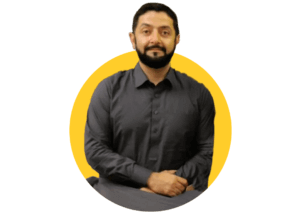 SARDAR OMAR SAQIB KHAN
After a stellar stint at Cadet College Hasanabdal, resulting in a dream career in the Cavalry, that spanned over two decades, I pride myself on being disciplined, exceptionally articulate when required and dedicated family member. With Iqbal's Idealism, I find myself wanting to achieve sense of proportion in every walk of life. I believe in supporting ideas and bringing out the best in people by pushing them to their utmost potential and developing ability to work under pressure. Post-military, I put my skills to task by lending my financial and logistic support in construction and automobile sector. At SquarePeg, I not only serve as the Chief Financial Officer but also as the voice of reason. My role is intertwined with financial upkeep, the clientele magnetism, management of resources and company's overall well-being.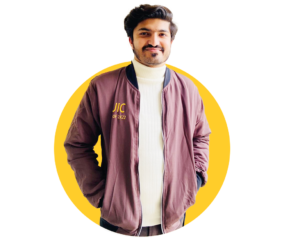 SYED AHSAN ALI
A jack of all trades and an overall nice guy Ahsan adds the zing to The SquarePeg's zang. With a smile on his face, he takes on each task with so much determination and sees it through with absolute commitment, that leaves us all in awe of his great work ethics.
At The SquarePeg, Ahsan is our Social Media Manager who meticulously follows a business potential from the point of strategy to its execution. And he does it with flawless brilliance.
He is a business grad who has majored in Technology Management. He has enhanced his skillset with multiple certifications in graphic designing, ecommerce management,digital marketing, wordpress to state a few.
A tech-savy, a car-enthusiast who loves to travel, who shares the best memes and has the solution to all our digital problems, Ahsan is a star and an integral part of Team SquarePeg.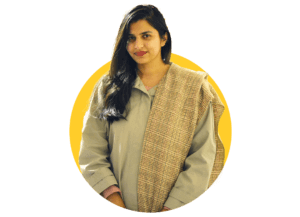 QANAITA MEHMOOD
Qanaita is the embodiment of all things feminine which means she's soft on the outside and a warrior on the inside. She's observant; she's wise and has the most uncompromising go-getter attitude. She's an analytically strong Electrical Engineer adept in research analysis and project management with the ability to handle complex business problems and scrutinizing financial viability of projects. Being a super hands-on mom taught Qanaita the essentials of time management, conflict resolution, adaptability and strategic thinking. Her managerial potential was further cultivated at the National Centre of Cyber Security. At The SquarePeg, Qanaita serves not only as a Project Manager but also as a voice of logic. Her diverse skill-set, patience and solution-oriented nature make her the sanest of us all! In an ideal world, Qanaita would be found peacefully enjoying and basking the glory of Mother Nature but fortunate for us, here in the Digital World, she works with us.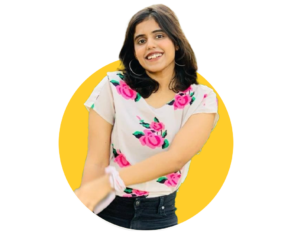 SAFINA JATOI
In its true sense Energizer Bunny on steroids is how we measure and describe Safina Jatoi's level of enthusiasm and work energy. At The SquarePeg, Safina serves as a Project Manager but is integrally involved with each project and each member of the team by constantly giving ideas, finding solutions and pushing everyone to do their absolute best.
Having done her degree in Applied Linguistics to working with Startups and multiple corporate companies, Safina has a diverse experience of working as an active team member as well as being a team leader.
The uber talented Safina, when not conjuring the next big idea, is big on food, quirky fashion, memes and getting the perfect Insta picture.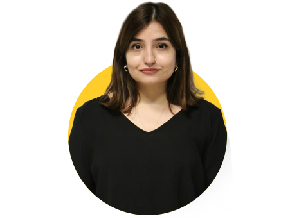 ALINA NASIR
A result-focused corporate and media communications specialist, with over 7years of total experience, with 5 years in corporate communications. A skilled communications person, with experience spanning the corporate and development sectors alike, with a Masters's degree in Corporate Communications, Culture, and Media Studies from Coventry University in the United Kingdom.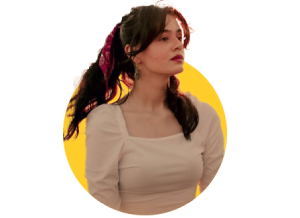 AYESHA AZHAR
Driven by creative pursuit, I am an individual who's ready to go insane trying to create all kinds of art. With a Bachelors in Journalism, my early professional quests have been blessedly around Media where I've worked in exciting capacities as a Voice-Over Artist and a Course Presenter, until I found my calling in a pair of lens. As a Turkish speaker, I've used my linguistic advantage to build professional pathways in Turkey. I currently function as a Production Coordinator in both Turkey and Pakistan, by which I also discovered my somewhat ability to function as a Stylist as well. I am severely passionate about photography and cinematography and want to cement life in film in a painfully warm colour grade. As a socially awkward hamster, I'm determined to translate my feelings through visual narratives, so please never call me….Ever! Unless it's about joining the cult of our supreme leader, the Hamster Lord.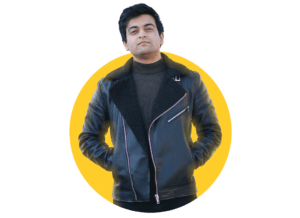 SYED USMAN GERDAZI
SENIOR ANIMATION EXPERT / CMS COORDINATOR
Usman, our quirky Graphic Designer/Video Animator sways like a pendulum between being overzealous to downright bored and yet somehow manages to keep his creativity to a maximum level. Usman has a demonstrated history of working in the education management/Marketing industry. He is also a skilled photographer and cinematographer who has a flair for the theatrics and keeps the team entertained with his dramatics. He is a strong arts and design professional with an in process Bachelor of Media Studies (BMS) focused in Communication and Media Studies. His personal life and interests are clouded by mystery – we only know what he lets us know.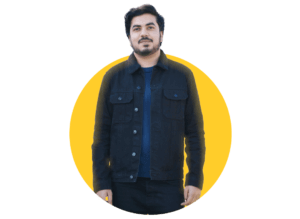 ALI IMRAN
Ali is a creative graphic designer with a free spirit and a dynamic background of playing with colors for UI designing, social media marketing, videos and advertising. He has a Bachelor's Degree in Media Sciences, but opted to pursue art and design for the love of visual arts. He started with freelance projects and excelled in each one of his Digital Marketing endeavors that comprised of diverse clientele from food chains, Retail brands to Real Estate. With his love for art and contemporary out of the box thinking, immense attention to detail and passion to create powerful content, he has become a powerful voice for The SquarePeg brand and is invaluable as a Graphic Designer. On the side, Ali loves food, travelling, sketching and making friends.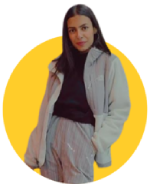 ARSALA AALE
Event planner, artist and selenophile, who loves to 'live for the vibes' and has her rose coloured glasses on for every situation because "life gives you lemons, lessons and memories". She is the literal embodiment of the colour purple as she's full of excitement for the unknown.
At The SquarePeg, Arsala adorns many roles but is mostly with HR department. She is majoring in Aviation Management and likes to spread her wings in the sky, as well as, to keep her roots in management. Arsala is proficient at minimalism and organisation which works to efficiently take care of our HR processes.
To quote her friends, she's fun, passionate, and only stubborn when it comes to overcoming obstacles to achieve her goals.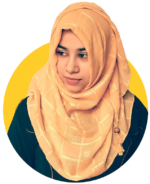 RABAB TOOR
CONTENT WRITER /RESEARCHER
A freelance writer, foodie, and a green thumb gardener with funny bones! Our Content Writer, Rabab, is a biochemistry graduate and has won SSBC entrepreneurial challenge during her master's in management sciences (MPA). She has attained a creative writing certification from Digiskills and participated in WikiGap Pakistan Online Challenge 2020, organized by the Embassy of Sweden and has also worked as a content editor for a year at a Lahore-based software house remotely.
With a keen interest in technology, medical sciences, nutrition, plants, horticulture, current trends, and crypto, Rabab also loves to scribe her knowledge at Medium.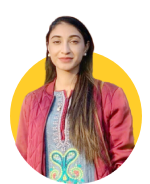 MANAL KHAN
A creative enthusiast who is solely driven by motivation. With a Bachelor Degree in Media Sciences, her keen eye to detail and aesthetic has led her to pursue her career in Graphic Design. She believes in Minimalism, be it her life style or her work. A shy and quirky introvert, who speaks her mind through visuals. She is professionally ambitious and deeply connected to her family.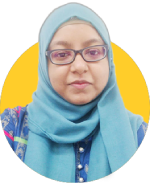 SADIA BEHZAD
SOCIAL MEDIA & PR COORDINATOR
Sadia is an intellectually curious person who constantly wants to expand her knowledge base,no matter the job description. An inspirational comic enthusiast, Sadia relies heavily on a steady supply of positive spiritual affirmations and lemon flavored green tea in order to stay aligned with her soul's true purpose. Proud to be an Economics & Mathematics graduate, Sadia is a word smith by accident, a problem solver by choice, and an introverted feeler by default. When she's not busy reading, writing, or scrolling social media, Sadia enjoys gulping down scoops of chocolate fudge brownie icecream without the guilt.
RIMSHA MEHMOOD
Artist or Architect? A beautiful amalgamation of all eleven constellations that aligning creativity and imagination in the most interesting ways. From set design to architectural planning to sculpture, she has explored multiple fields of professions while testing her mettle. Her avant grade approach enables her to provide her clients with out of the box experience in terms of ambiance and aesthetics, not just on paper or screen but in actuality too!