When discussing the topic of e-commerce and e-commerce solutions, the most fundamental notion is of growth and progress. Currently, E-commerce has become the most popularly used platform for feasible and practical shopping, in the online landscape as well as in the physical market. Be it outfits, appliances, accessories – online shopping trends are evolving to be more prominent and dominant. Annually, numerous websites and applications are being created to manage the surging demand for convenient shopping trends.
Though Pakistan's e-commerce sector has thrived rapidly, there are still several challenges that come with this increase and in order to overcome the problems posed by physical markets, e-commerce solutions need to be far more eminent and efficient. While insights and intuitions on customer behavior and consumption patterns are vital, information regarding the widespread infiltration across the country and subscription and fee methods needs to be revived.
CHOOSING THE RIGHT E-commerce solution
E-commerce (alternatively electronic commerce) is the purchasing and sale of commodities or services on the internet and online platforms. From mobile shopping to online subscription and fee encryption, e-commerce comprises of a broad and comprehensive assortment of information, applications, and instruments for both online customers and retailers. Most firms with an e-commerce existence employ an e-commerce shop and/or an e-commerce forum to execute both online marketing and sales tasks and to govern and supervise logistical issues.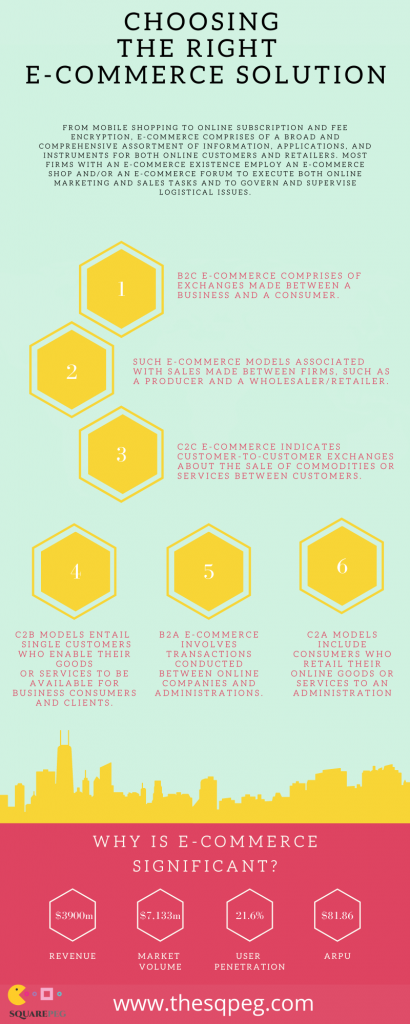 The IMPACT of E-commerce Solutions on stakeholders 
The consequences of e-commerce are notable and widespread with a ripple effect on the economy from small scale businesses to international industries.
The effect on large scale retailers:
For many large scale businesses, the success of e-commerce has grown their company's outreach. However, for other wholesalers who are slow to welcome online platforms and market themselves, the result has been varied. Foursquare data indicates that discount markets and luxury goods retailers are managing and sustaining their brand loyalty and control over consumers, but e-commerce adds to the intense and brutal competition for mid-tier retailers.
On the contrary, large scale retailers have the technological capacity and financial power to reach new customers. An E-commerce act as a solution for the restrictive and limited scope of physical businesses and also facilitates firms to expand their reach to international consumers. An e-commerce market is not geographically immobile nor linked to a particular geographic setting – it is accessible and available to all consumers who visit the online platform. Additionally, with the advantage of social media promotions, companies' labels can create a bond with huge target audiences who are prepared to purchase, due to e-commerce solutions.
Small Scale businesses
E-commerce enables small businesses to retail directly to buyers but for many this adoption has been a sluggish procedure. Nevertheless, those who have embraced the online world have uncovered E-commerce solutions to pave the way to unique and novel opportunities that were previously impractical. Gradually, small-scale new business owners are undertaking E-commerce stores, and varying their commodities, accommodating buyers who desire online shopping.
Impact on Customers
The online space is revolutionizing the methods of shopping by modern buyers. Millennials are the vastest demographic of people who employ e-commerce (67%), but Gen Xers and Baby Boomers fall behind at 56% and 41% partaking in online shopping,  respectively. Moreover, clients can purchase the products at a faster rate without the impediment of operating hours of a conventional brick-and-mortar store.
The Pakistani Paradigm of Ecommerce
In the COVID 19 pandemic, Pakistan's e-commerce industry surged with a considerable boost in revenue as peoples' physical movement was limited. For a few years, Pakistan has endeavored to develop the virtualization of the economy via advertising online firms to increase export revenue and produce more job opportunities for individuals. This is evident as there was a substantial rise in online sales despite only approximately 21 percent of Pakistani adults holding transaction accounts.
The Pakistani E-commerce platform, Daraz.pk, is Pakistan's largest online shopping market with more than seven million goods available to order, over 30,000 sellers, and 500 diverse brands subscribed to with the service. The State Bank of Pakistan asserts that migration to E-payments will encourage trade and consumption contributing seven percent to the
country's economy which will create four million jobs and stimulate GDP by $36 billion in the next five years.
In Pakistan, the revenue of domestic and international e-commerce traders in Pakistan has escalated from Rs20.7 billion in 2017 to Rs40.1 billion in the subsequent year, according to the Ministry of Commerce. The state is also generating and enhancing a worldwide fee payment gateway that will be combined with different fee payment firms on the online platform, such as PayPal, to assist new payments to encourage export revenue and aid traders and specialists.
As per the E-commerce Index, data suggests that Punjab contributes to the largest extent to E-commerce at 55%, with Sindh at 36%. Balochistan, Khyber Pakhtunkhwa, and Azad Kashmir, aggregately contribute the leftover 9%. The Index also documented that since the pandemic worsened in Pakistan, the need for FMCG products has boosted. On the Daraz.pk platform, the revenue of FMCG goods magnified twofold in March and is to rise to 70%.
Beyond the fallacious future of E-commerce 
There are still challenges that prevail in the E-commerce industry of Pakistan – most pertaining to the retailer shrugging off liability once an item has been delivered and the other of cyber-security where a consumer remains hesitant in providing confidential details, such as card numbers to online platforms.
The state needs to uphold the mantle of taking practical steps by imposing favorable legislation to enable global payment options and hastened cyber-security legislation would allow healthy competition to ensure a transparent and accountable system. As E-commerce gains significance, vigorous customer journeys, artificial intelligence-powered shopping, and virtual currencies present abundant opportunities for the global market.